A year-long exploration of art representing womens' societal expectations and self-empowerment.
The Bouquet Toss explores the disconnect of the wedding and the marriage.

I highlight the materialization and glorification of the wedding that hides the reality of dysfunctional marriages, while aggravating the anxiety and societal expectation of marriage. Social media posts further add to this by strictly portraying the most appealing aspects of relationships. While a lot of artworks explore love and heartbreak, I instead target the wedding as the source of our socially constructed need to find a significant other, and consequently, all the strong feelings involved in this process.
Medium: plush flowers, false flowers, paper, fishing string, printed fabric, ribbon, thread, projector
Exhibit type: installation
My sister is my role model and a predecessor to many life events that eventually will occur to me. As little girls, we dreamt of weddings and played dress-up as princesses who meet the man of their dreams. But as we grow older, life becomes more difficult and our role models, from parents to siblings, seem increasingly imperfect. Somehow, our naïve childhood remains an innate part of us. One of the most memorable events for my family was my sister's wedding, yet the marriage lasted only two years. Even though I knew marriages are mostly unsuccessful, this was a reality check because I see myself through her, and I have witnessed her emotional damage from the divorce. My parents expected her to find a good husband, have children, and basically assumed she'd stay married.

These expectations are now placed on me

.
The bouquet toss is a tradition where the bride tosses her bouquet to an unmarried girl to wish her good luck. I portray the bouquet as an ominous reality that is expected of me in the future. 
I caught the bouquet at my sister's wedding!
I used fabric and ribbon to hand-make a traditional Chinese kids' vest, representing unfulfilled expectations from my sister's marriage that I now carry. It is a Chinese rite of passage for grandmothers and new mothers to hand-make clothing for their children in traditional colors. They learn sewing and embroidery as young girls due to the societal and family expectation of having children. As a kid, I also learned these skills from my mother. 
The front side of the vest will look traditional. The back side is a hand-sewn patchwork of scrap fabrics with a cut-up print of my sister and her ex-husband at their wedding, representing emotional damage, compromises, and her bittersweet memories after divorcing him.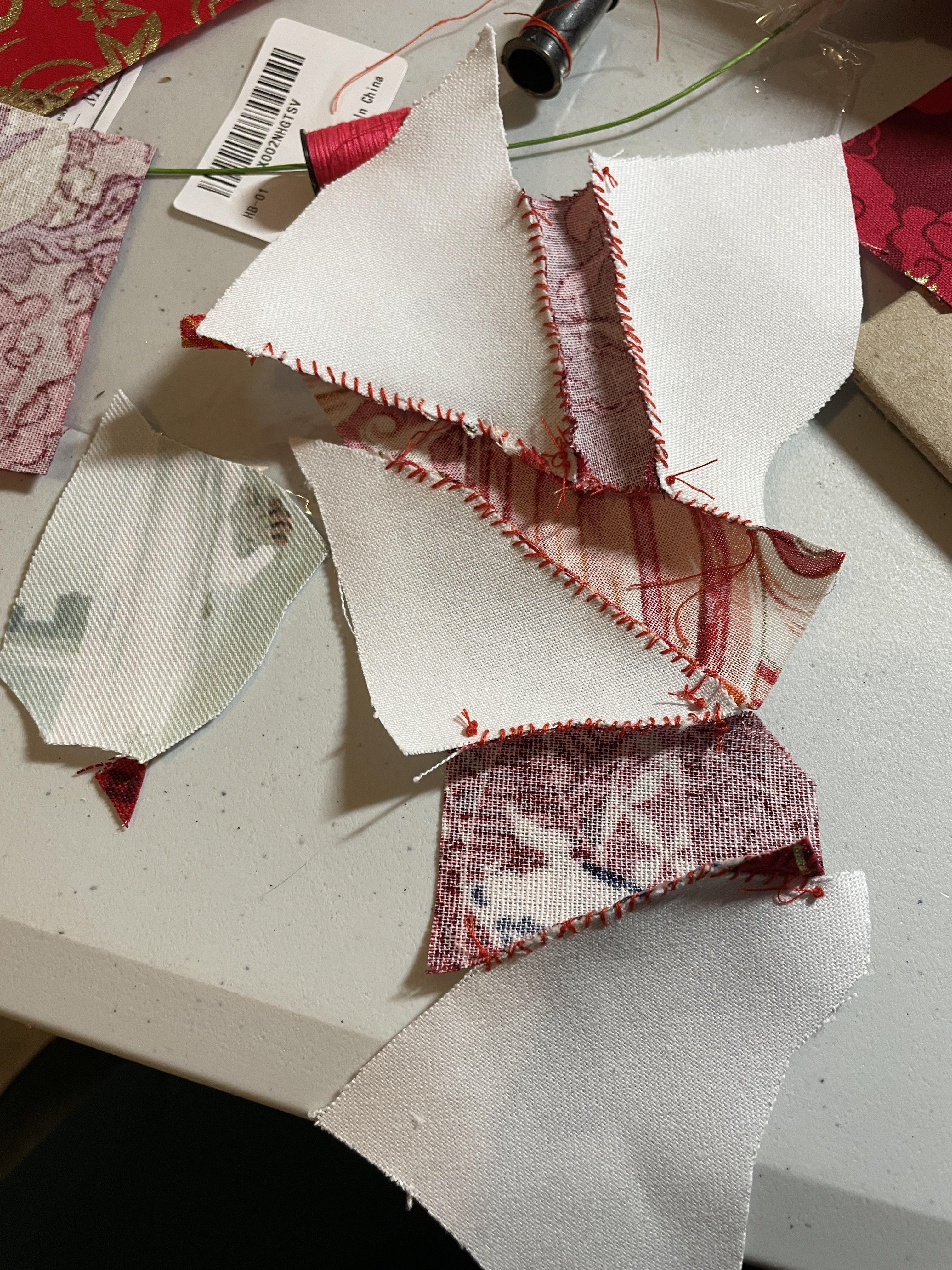 Divorce is still taboo in many cultures, and in Chinese culture, respecting family and ancestors always comes first. The shadow of my whole family at my sister's wedding is projected onto the wall. I also hand-made flowers out of Chinese offering bills, which are traditionally burnt when visiting lost ancestors. These flowers are combined with fake wedding flowers, as well as plush flowers that I played with as a kid.
The thesis exhibition took place in the Addams Gallery at the University of Pennsylva

nia in December 2021.